Warpworld: The Apocalypse
Laconia
The City of Laconia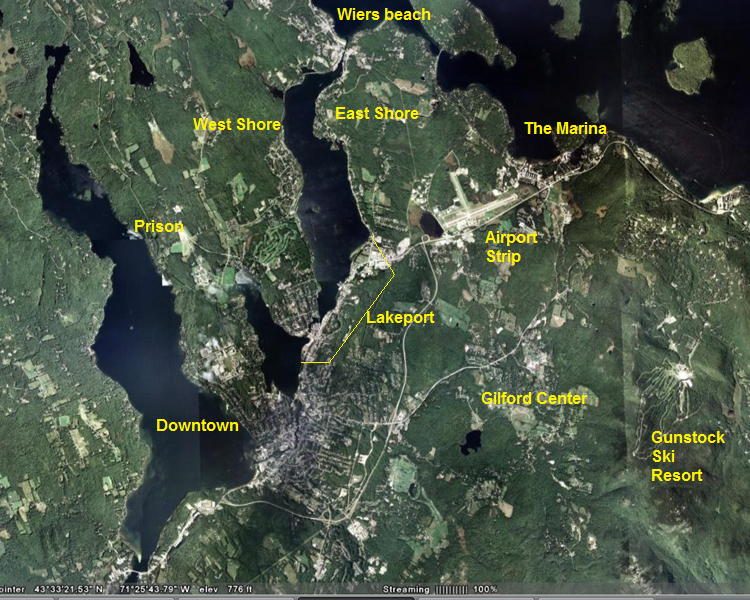 Laconia is a small city of around 17 thousand people on the southern shores of the Winnipesaukee Lakes. The Lakes are the largest and most popular in the state, and is actually made up of several interconnected lakes, Winnipesaukee, Mirror, Wentworth, Kanasatka, Waukewan, Wickwas, Winnisquam, Opechee, and Paugus. They freeze every winter thick enough for cars to drive on, and ice fishing is a popular pastime. Every summer Laconia hosts "Bike Week", which is one of the largest motorcycle enthusiast / biker meets in the country.
The city of Laconia includes two villages, Weirs Beach and Lakeport, as part of its city limits. Gilford, just to the east, is considered a separate municipality, but is also considered part of the "metropolitan area" (If such a term can be applied to the city…) The Northernmost village is Weirs Beach, which is a shopping and entertainment neighborhood on Winnipesaukee itself. There is the Winnipesaukee Playhouse theater, the Marketplace strip, Black Cat Café, Prescott Floral and Gardens, a goldsmith, and Funspot, a large arcade as well as dozens of other local businesses.
South of Weirs Beach is Paugus Bay, and the two neighborhoods the "East Shore" and "West Shore". The East Shore is a string of hotels and motels for tourists, stretching between Weirs Beach and Lakeport. The West Shore is, predictably, across Paugus Bay and is a neighborhood of homes for the wealthy that live in Laconia (or maintain a summer home here). The Laconia Country Club is also located here.
Lakeport sits at the south end of Paugus Bay, clustered along Union avenue, also known as Route 11B. All along this road are hotels, restaurants, and stores. Along the shore are a number of piers, boat and jet-ski rentals, and such. This strip has an example of practically every major fast food franchise, competing with an equal number of mom-and-pop restaurants. Case and Keg, Laconia's liquor store, is also located on this strip. For those trying to get to Gilford from downtown Laconia, who don't want to deal with the traffic on Route 11B, there is a bypass Route 3 that circles around Lakeport.
The Northwestern portion of Laconia holds a few farms, a small Industrial park, and the "Lakes Region Facility", a medium security prison holding 600 inmates. A large part of this area is unused woodland, and homes here tend to have a small plot of farmland or pasture for dairy cows.
The far Southwestern area of Laconia has another small Industrial park and a couple car dealerships along Route 3. Homes are scattered through this area, usually sitting on two to five acres of heavily wooded land, for people who want to live a little outside of town. There are two small country clubs with golf courses in this area as well.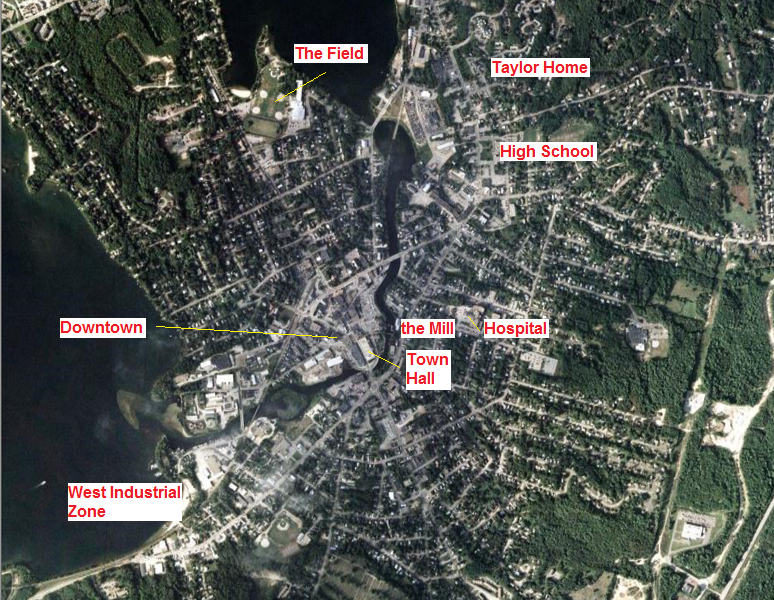 The Downtown area of Laconia is, as would be expected, the densest. Considerable care is taken to preserve the character of the town, which is a mix of nineteenth century colonials, saltboxes, and Victorians, with 1920's era brick and stone for public buildings. The Mill on the inlet between Opechee Bay and Winnisquam Bay is a carefully preserved remembrance of when textiles supported New Hampshire's economy. The Town Hall is near the Mill. Businesses of various kinds are spread throughout the downtown area, mostly along Route 3 and Route 11. Laconia General Hospital is in this area, along with the High School and the Community Technical Center. Town utilities and cable, phone, and internet providers are in this area of town as well. The Taylor Home was a retirement home that bought up the land around it and has turned into a sprawling retirement community, drawing in a large number of retirees looking for a comfortable, scenic place to live. The Field is a public park on Opechee Bay with soccer fields, baseball diamonds, a running track, and lakeside walking/running trails. Several health clubs (Including a women-only health center), youth groups, and the YMCA are in the area. On the western end of the Downtown area is another industrial zone.
Along the southeastern portion of Laconia is where most of the housing is located, slightly away from the Route 11 strip.
Gilford
Though Gilford is considered a separate municipality, it is part of the Laconia "metro" area. Gilford Center is a sleepy little neighborhood separated from the hustle and bustle of the Route 11 tourist strip. This is something of a "bedroom community" for people who work the various tourist shops, hotels, and attractions around the south end of the lake.
The Airport Strip runs on both sides of Route 11 south of Laconia Airport (Which, despite the name, is actually in Gilford). there are a number of manufacturing concerns along the edge of the airport, South New Hampshire University, and a cluster of Supermarkets and a Walmart that serves Gilford. The Marina is a district of Gilford dedicated to tourist attractions, restaurant, and a dozen hotels and resorts. A marina services Lake Winnipesaukee from there, with boat rentals and a public boat ramp.
Gunstock Ski Resort is within Guilford city limits, the southernmost ski area in New Hampshire. Though it is a smaller ski area on a modest sized mountain, it remains popular because it is also over fifty miles closer to most of the population of New Hampshire than the larger resorts in the White Mountains. The ski resort also includes a small shopping complex for outdoor and ski goods. In the summer, there is horseback riding offered through the hilly terrain.