Warpworld: The Apocalypse
lakesregion
Overview of the Lakes Region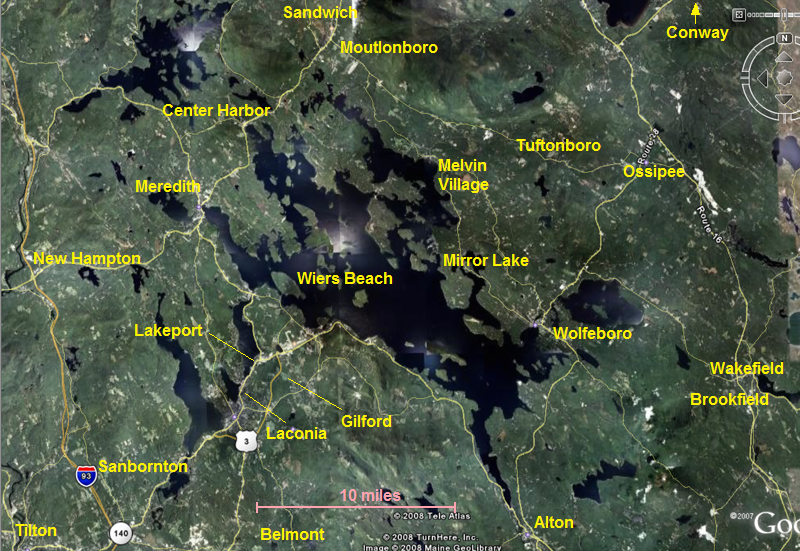 Belmont (Pop 6700) is about ten miles south of Laconia. It is largely a bedroom community with little of interest.
Tilton (Pop 3500) is about 14 miles southwest of Laconia. It is mainly noted for having several chain stores (Shaws supermarket, BJ's Superstore, Lowes, Home Depot) visited by the denizens of other local towns and the Autoserv used car dealership.
Sanbornton (Pop 2700) is ten miles west of Laconia and home to Steele Hill Resort. This huge resort sits on top of a hill overlooking the lakes with golf, horseback riding, and a small, private ski slope. Den Brae Golf Course and Appletree nursery are also found in town.
New Hampton (Pop 2000) is around 11 miles northwest of Laconia, and known mainly for the fish hatcheries there which are used to stock the lakes. Bobby's Girl Diner is also something of a local favorite.
Meredith (Pop 5900) sits at a northern inlet of Winnipesaukee, about 12 miles north of Laconia. The Interlakes school system is based there, where kids from Center Harbor and New Hampton are educated. The town relies almost exclusively on the tourist industry, with restaurants, hotels, and lake-based businesses. The Interlake theater is well known around the area, as is Meredith Harley Davidson, the only dealership north of Manchester. The Winnipesaukee Scenic Railroad operates between Meredith and Laconia, offering a leisurely trip along the lake.
Center Harbor (Pop 1000) is a quiet lakeside town halfway between Meredith and Moultonboro (thus the name), about 17 miles from Laconia around the lake. It is favored by tourists who want to get away from the crowds, with only a few exclusive hotels along the north shore of Lake Winnipesaukee. It is also home to numerous dairy farms and the Immaculate Conception Apostilic Seminary. The Mount Washington Steamer is an old-fashioned paddle-wheel riverboat that plies the lake when it isn't frozen over.
Moultonboro (Pop 4500) is a large town with a small municipal airport about 25 miles northeast of Laconia by road around the lake. It sits off the lake for the most part, though it has several campgrounds along the northeast shore. Moultonboro's main claim to fame is Castle in the Clouds, an estate built by an eccentric man who became extremely wealthy from shoe factories at the turn of the twentieth century. He had the castle-like building built on the summit of a mountain overlooking the lakes.
Tuftonboro (Pop 2200) is a municipality that includes Mirror Lake and Melvin Village. This side of the lake is relatively quiet compared to the Laconia side. There is a bare airstrip in Mirror Lake, situated on an island in the lake.
Ossipee (Pop 4500) sits quietly 10 miles from the Lakes, at the end of the rail line that connects the area to southern New Hampshire. It is thus a hub for transporting goods and heavy equipment to the region. Nestled among the lower foothills of the White Mountains, it is also popular with hikers, campers, hunters, and conservationists. It also is known for its rich farmland, thanks to volcanic soil deposited there millennia ago from the now long dormant volcanoes that are now little but worn old hills.
Wolfeboro (Pop 6000) is only 15 miles east of Laconia, but 30 miles by road around the southern spur of Winnipesauke, through Alton. It is a smaller version of Laconia, after a fashion, with a small hospital, some hotels and lake-based tourism businesses. Its primary claims to fame are its museums, including a Boating museum, an old Firefighting museum, and the Wright Museum, dedicated to World War 2 memorabilia and military equipment.
Alton (Pop 4500) sits at the very southern tip of the Lakes, and attracts more locals than out of area tourism. The Bay has arcades, mini-golf, boat rentals, and a family-friendly atmosphere.
Wakefield (Pop 4200) is actually five villages (Sanbornville, Union, Wakefield Village, West Wakefield, and North Wakefield) incorporated together into one town. It is largely a bedroom community for the Rochester / Dover cities, populated by people who like the quiet and don't mind the half hour to forty-five minute commute. It is also home to the famous local watering hole "The Poor People's Pub".
Brookfield (Pop 600) is a small town known for its agriculture. The farmland is known for its fertile nature, and much of the produce sold in local markets comes from here.