Warpworld: The Apocalypse
newhampshire
Overview of New Hampshire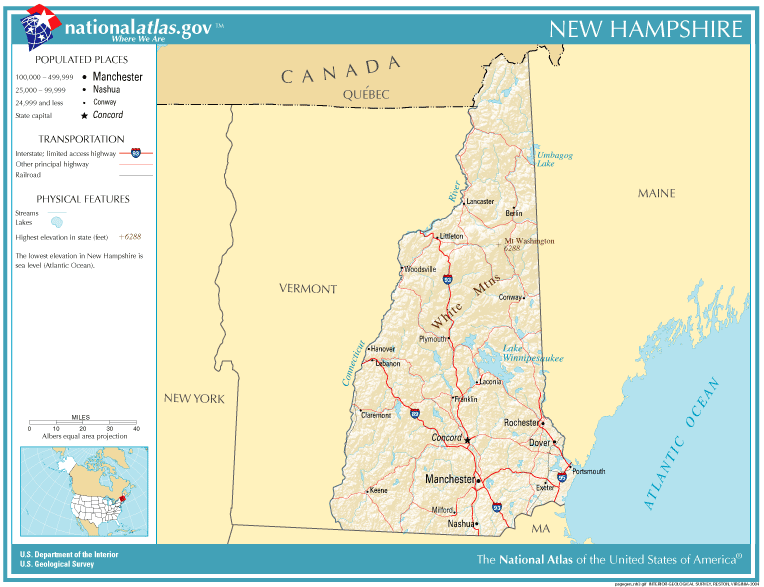 New Hampshire is, like its neighbors Maine and Vermont, largely a rural state. The southern third of the state is the most densely populated, but even there cities are separated by stretches of old-growth forest, much of it pines and evergreens. The central portion of the state is dominated by the Lakes Region and the White Mountains, which can be passed only through "Notches". The northern third of the state is mostly virgin wilderness.
Most people are surprised to find that agriculture is considerably important to the state, given its northern latitude. Corn is the most common crop, as it has higher yields and grows well in the rocky soil. Potatoes are also common in the northern parts of the state. Garden vegetables, pumpkins, and squash are grown on small farms and sold in farmers markets throughout the state. Orchards are also common, with apples and pears predominant. Blueberries, blackberries, and raspberries can be found growing wild, and are cultivated as well. Dairy farms are also a common sight throughout the Lakes Region and the north of the site.
The importance of local agriculture grew considerably at the beginning of the 20th century, when much of the textile industry of the state slowed and eventually vanished. Old brick textile mills are found throughout the state, often protected as historic buildings. Some light manufacturing has taken its place, scattered throughout the state.
Sometimes it seems as though time moves more slowly in New Hampshire, as it still hold much of its colonial character and charm. Glass and steel skyscrapers and "modern" architecture have not gained a foothold in the state. Colonial, cape cod, and saltbox houses dominate the landscape, with 19th century brick buildings and art deco stone from the 1920's make up the majority of the urban landscape. Most towns and cities have ordinances to protect older buildings and prevent newer ones that might destroy that cultural history. Driving through New Hampshire is like stepping back in time architecturally.
The people of New Hampshire are some of the most politically active in the country. The folks take their local government, and the responsibility of the citizens to participate, very seriously. Town meetings to discuss local issues are always well attended, with people voicing their opinions, often rather vocally. The State's license plates bear the state motto…"Live Free or Die". (How many states mention death on the license plate!) One of the effects of the high level of participation in local politics, New Hampshire has no sales tax, and no income tax. The property taxes are steep however, as are gasoline, cigarette, and alcohol taxes. New Hampshire is ranked 49th in the nation for state and local tax burden. They take the "No taxation without representation" seriously.
Communities in New Hampshire are often quite close knit, and participation in various social and charity organizations is high. The Freemasons are a tremendously powerful social network in New Hampshire, and lodges have extensive memberships. Most local politicians and important businessmen belong to the local Masonic lodge, their sons are in DeMolay, their wives and daughters part of Eastern Star. Also popular, though less well represented are other lodge organizations like the Shriners, Kiwonis Club, Lions Club, Moose Lodge, and similar social organizations.
People in New Hampshire are known as a friendly lot, with close ties to social organizations and local politics. They have a reputation for pragmatism and a healthy respect for the past and their cultural inheritance.
In terms of population demographics…New Hampshire is White. About 96% White. The state has about a 2% population of Hispanics, 1% Black, and 1.5% Asian. So yeah…white.
In terms of ancestry, the mix is about 27% French-Canadian, 21% Irish, 21% English, 10% Italian, 10% German, 8% Scottish, and about 3% "other". Much of the French-Canadian and Irish ancestral groups are centered around Manchester where the textile mills there attracted working immigrants in the 19th century.
About 35% of people in New Hampshire identify themselves as Catholic, 32% Protestant, 5% "Christian unspecified", 1% Jewish, 2% "Other", and a surprisingly large 17% claiming to be Atheist.
Major Cities
New Hampshire has less than twenty cities with a population over ten thousand people, and only a handful over twenty thousand. In fact, to denizens of metropolitan areas of the country, cities in New Hampshire feel more like quiet suburbs. I won't go into every city, but I'll mention some important ones that may have some effect of Laconia during the game.
Concord: The state capital has the third highest population in the state, at 41 thousand. Much of Concord's business and economy is centered around the state government as might be expected. It has kept its colonial flavor intact and feels more like a "big town" as opposed to a "small city". People in Concord don't seem to mind that Manchester dwarfs it in size and importance to transport and the economy. They seem perfectly happy to just house the state government and let the travel, air flights, and professional sports teams operate out of Manchester. 25 miles from Laconia.
Manchester: Manchester is the largest city in New England north of Massachusetts, with a population of 110 thousand or so. It is the transportation hub and economic center of New Hampshire. Unlike much of New Hampshire, Manchester has not eschewed architectural modernization, and is the closest to feeling like a "big city". The Manchester Airport is a sprawling, newly rebuilt facility that serves as the main transport hub for New Hampshire and much of Vermont. They have a ten-thousand seat stadium, and minor league baseball, hockey, basketball, soccer, and arena football teams. It has a thriving downtown area and a 125 store mall. While much of the state was in a recession, Manchester continued to grow. It has two 300+ bed hospitals, a half dozen colleges, and considerable manufacturing and electronics industries (including a major Verizon hub). It is also an important banking and insurance center for the state. 41 Miles South of Laconia through Concord.
Nashua, Salem, Derry, Londonderry: These four cities totaling around 160 thousand people are on the border with Massachusetts, and considered part of the greater Boston metroplex. Some might even consider them closer to being part of Massachusetts than New Hampshire (but they're likely to disagree vehemently) Far enough away from Laconia, they are not likely to have much effect of Laconia, but as major cities in the state, I thought they deserved at least some mention. 57 Miles South of Laconia through Concord and Manchester.
Lebanon: Sitting on the central border with Vermont, Lebanon is close to Hanover, and houses Dartmouth's medical campus, teaching hospital, and numerous medical research firms. The town of 13 thousand is known for being a leader in medical research, and also for several software facilities (including Microsoft, Novell, and Tele-Atlas). 48 Miles West of Laconia.
Hanover: Hanover would be little more than a footnote, an 11 thousand person town in west-central New Hampshire. However, its one claim to fame is that it's the home of Dartmouth college. The university dominates the town's population (3000 students) and economy. Hanover is very much a "college town". 58 Miles West of Laconia, through Lebanon.
Conway: Conway is more of a large town than a city, with a population of 9 thousand. It is the crossroads for the passes (called "Notches") through the White Mountains, and thus a tourist Mecca. It relies on year-round tourism for its economy, attracting skiers, hikers, outdoorsmen, campers, hunters, etc. It also houses many tourist attractions like the Scenic Railroad, Storybookland (Think low-budget Disneyland featuring classic Grimm Fairytales), and others. 32 Miles Northeast of Laconia.
Berlin: Berlin is the northernmost major city in New Hampshire, at a whopping 11 thousand. North of the White Mountains, it is isolated from the southern portions of the state, and serves as the central hub for the entire northern third of the state, giving it more importance than its size might indicate. There is a small regional airport and a minimum-security state prison in the town. 69 Miles North of Laconia through Conway.
Rochester: A medium-sized city of 29 thousand, Rochester is a pleasant, if unremarkable city. It straddles the line between staying true to its heritage and ushering in the modern. The downtown area retains its colonial nature, while other areas of town are more modern with a handful of malls along Route 4. The city has a decent manufacturing base, and is known for the Rochester Fair, an agricultural fair held every September. 30 Miles Southeast of Laconia.
Dover: Dover is a medium-sized city at 27 thousand, but is very diverse economically. Though the University of New Hampshire is technically located in Durham to the west, Dover is the major spot for shopping and nightlife for the college. The downtown section is a maze of one-way streets filled with cafes, bookstores, and bars. There is considerable light manufacturing in the city. 40 Miles Southeast of Laconia, through Rochester.
Portsmouth: Portsmouth is one of the smaller major cities of New Hampshire at just 21 thousand, but it has a disproportionate importance for its size. Portsmouth was the first city founded in New Hampshire, less than two decades after the Pilgrims landed at Plymouth Rock. The area along the Piscataqua river they settled is still preserved as a historical site (Called Strawberry Bank). Its economy is driven by the Portsmouth Naval Shipyard (Which ironically is located across the river in Kittery, Maine) and what used to be Pease Air Force Base. When the base was closed, the city bought it and now it is the Pease Industrial Park, which has brought in some much-needed light manufacturing and other business, including a brewery. Portsmouth is known for its downtown nightlife, several excellent theater troupes, and could be considered a cultural center for the state. Oddly, much of its influence is over not only the smaller surrounding towns (including tourist destination Hampton Beach), but over southern York County, Maine as well. Newington is a satellite city known for shopping with two large malls and several smaller strip malls. 50 Miles Southeast of Laconia through Rochester and Dover.
I hope the pictures help people conjure up the feeling and image on New Hampshire in your heads…